Mein erstes selbstgemachtes Sushi, woot!
Es war sogar ganz hübsch anzusehen, lecker sowieso 🙂
| | |
| --- | --- |
| | |
|  Neue Duschpeelings von Yves Rocher. Limited Editions mit tollen Düften: Lemon Basil und Apple Star Anis |  Frühlingsputz ist voll im Gange – das sind nicht mal alle meine Lacke, aber den Rest sortiere ich dann in Ö aus…ganz sicher… |
| | |
| Die neue Artdeco Limited Edition Here Comes The Sun wartet mit tollen Produkten auf – Bericht folgt! | Der Nagellack: Couture Sun-Kissed ist schon mal Sommer pur. |
Meine Beiträge diese Woche – mit einem Alltagslook und Monatsfavoriten:
Diese Woche war mein Lieblingsprodukt eindeutig der leider limitierte Lack Purple Pearl von Manhattan – auf amazon gibt es ihn aber noch. In den letzten Wochen habe ich einige Male doch fast eine Farbe der models own Chrome Collection gekauft, ua. das Mauve. Durch mein Aussortieren habe ich aber diesen Lack wiederentdeckt: Ein ziemlich glattes, streifenfreies Metallic Finish in einem schönen pink-violetten Farbton – shopping my stash yeah!
…amüsierte: 15 Cats Who Refuse To Accept That Their Boxes Are Too Small – ehehehehe! Hauptsache Schachtel!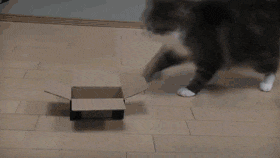 …nervte: 30 Rock fertig geschaut – wieso waren die Episoden so kurz? Und nur 7 Staffeln! Buh! Und Bossypants habe ich auch in zwei Tagen ausgelesen. Mannmann.
…begleitete: Meine schöne neue Frühlingsbettwäsche von Primark – ich liebe Wendebettwäschen und dieses Muster mit zarten Pastelltönen…freue mich immer, ins Schlafzimmer zu gehen!

Frohes verlängertes Osterwochenende! Ich wünsch euch einen guten Start in die Woche!